Naomi the Diamond Queen...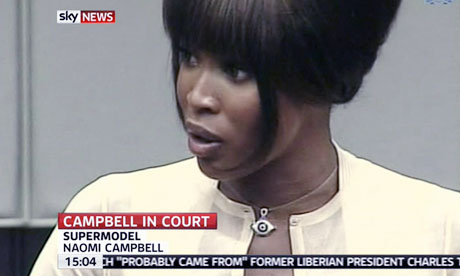 The former president of Liberia Charles Taylor has been on trial at the Hague since 2007 and I bet most of you didn't even know that or you had thought it was all over years ago and he was currently rotting in jail, but I guess after being inundated today with news of the appearance of the glamorous Naomi Campbell at the Hague to give evidence for the prosecution, you suddenly realise the case is not over.

A few points to note here, firstly she was not a willing witness as she was ordered to give evidence after Mia Farrow alleged that representatives of Taylor gave the supermodel a diamond in the dead of night in 1997, after they'd all been guests of Nelson Mandela at a charity dinner in South Africa. Secondly there is her appearance as a hostile witness and the testimony she gave if you can call it that. Just in case you have no idea about what she said I will paraphrase, she alleges that she had a knock on her door late at night and two men whom she did not know just gave her some "dirty looking pebbles", which were allegedly diamonds but Ms Campbell was not aware of their value or what they were.
Now I am not that bothered that a trial that has been going on for 3 years received hardly any media attention until Ms Campbell showed up, cos that is the media for you and lets be fair she is a celebrity in her own right so she will attract a lot of media attention. But please are we really to believe that when she was given the diamonds she had no idea of what they were, if that was the case why did she not just throw the pebbles away. What I want to know is what happened to them and if it was all just as innocent as she has made the world to believe why was she so reluctant to give evidence. These for me are questions that need to be answered as no matter what you may believe Naomi Campbell does not fall into the "dumb blonde" category of a model. I guess we will never know the truth and I assume only Mr Taylor & Ms Campbell know what really happened.
I am sitting at home doing some work on the computer and I have the TV on at no particular channel but I do think it was "E" (the old entertainment tonight channel) and they are showing one of the reality TV programmes that they regularly show, it's not that I watch them but being in the fashion and entertainment business I have to know what is going on so that in case I am asked something about them I can comment – that's my version any way. Back to the issue at hand, so I am watching the programme and then I hear a woman say I need to tell you something but you must not let anyway know as it is a secret and nobody must know about it. She then proceeds to say that she may have a problem of a sexual nature, which is top secret.
I know that I am not the brightest spark in the universe, but hello are there not millions of people watching the programme, so how the hell is it a secret that she wants no one to know about, I know and now all of you know as well.
Facebook Advertising Skin lightening...
I have always thought that I am quite innovative and creative when it comes to trying to market my events and things that I am involved in, but recently I was contacted by a reporter from the Eastern Eye Newspaper and she was doing a story looking into whether there is a lack of dark-skinned models from ethnic minority groups in the fashion industry, but with particular reference to the recent Vaseline campaign for skin lightening creams fronted by Shahid Kapoor.
In brief Shahid Kapoor is a celebrity Bollywood actor.
Now what made this story interesting was not the lack of dark skinned models but the fact that they were using Facebook to actively advertise the product and secondly it was primarily aimed at men.
It is a pity that we still feel we have to be light skinned to make it in the world, but I do think doing an advertising campaign for this type of product on Facebook was ingenious and following on from some more research that I have done it has been a very successful campaign.
HEALTH WARNING: Skin lightening creams can serious damage your health.
Abuja Fashion Week 30 September to 2 October email for more information on how exhibit, sponsor, show your designs of generally just get involved.
Mahogany Bridal Show Nigeria 19 to 20 February 2011 email for more information on how exhibit, sponsor, show your designs of generally just get involved.
Top Model of Colour final 2 heats are on the 7 & 21 August (which includes the male heat) - Purchase Tickets or call 07971 388687 tickets can be purchased on the door.
When out and about I see young men walking down the street and their trousers are around their ankles and I see the disdainful look given to them by some women and some men and I am never sure if it is because they don't like the style or it is because the underwear or boxer shorts the men are wearing are not fashionable or because there are skid marks showing. But whatever it is, it is about fashion. I guess fashion is a bit like beauty, it is in the eye of the beholder. The trousers around the ankles is not personally my style, as I think it is hard to walk with your trousers around your ankles and not fall down and also it sometimes attracts the wrong type of attention, including attention from some men but everyman to his own.
For a while I thought that it was just men that were developing this very bad fashion sense, but recently more and more I have noticed that women have developed their own fashion disaster. A while back it was the thong showing over the jeans or trousers but now it is the bra showing. I accept that you may consider me old fashion but my point is this, in the good old days bras were hidden underneath clothing and occasionally we got the brief flash of the front part of a woman bra but now women show off their bra all the time regardless of what they are wearing. Besides it not looking that great as a fashion statement, the worst things is that some of the bras being worn are extremely ugly, some are well worn (out) and in some cases you can see that they have not been washed in a while.
So ladies just like the men if you are going to go down the line of showing your bra, please make sure it is fashionable and clean and guys make sure your skid marks are not showing and your boxers are on point.
DONT' BE A FASHION DISASTER!!!!!
Be good and take care – tomorrows another day